ASICS is a comprehensive diagnostic of the state of India's city-systems based on Janaagraha's City-Systems framework. It is intended to serve as a bellwether of the degree and direction of systemic reforms being undertaken by governments in respect of cities.
The City-Systems framework provides a comprehensive systems approach to diagnose and address these governance and institutional reasons. The framework consists of the following four components: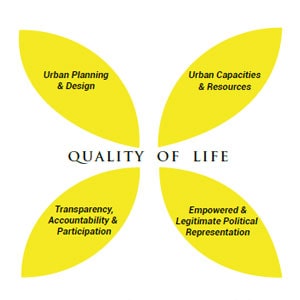 Through a collaborative approach that will leverage Janaagraha's expertise in governance reforms and involve city partners with local knowledge and expertise, the proposed Network will engage political and administrative decision makers at the Central, State and City level to advocate and implement systemic reform in each of the above four areas that make up the City-Systems framework.