BOARD OF TRUSTEES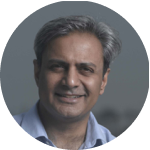 Ramesh Ramanathan
Co-founder, Jana Group
Ramesh Ramanathan is a social entrepreneur who works on urban issues in India. He has worked closely with the government in a pro-bono capacity and has also contributed as the National Technical Advisor for the government's Jawaharlal Nehru National Urban Renewal Mission, the country's flagship urban mission. As co-founder of the Jana Group, Ramesh heads […]
Swati Ramanathan
Co-founder, Jana Group
Swati Ramanathan is co-founder of the Jana Group, which consists of several social enterprises including Janaagraha and Jana Urban Space Foundation.  Swati leads Janaagraha's innovations in the use of social media and technology for civic participation. She has received international awards and recognition for IPaidABribe and IChangeMyCity, including Google's Global Impact Challenge Award (2013), ICIF […]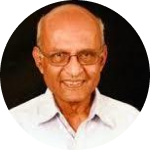 KK Nayar
Trustee, Janaagraha
KK Nayar heads Janaagraha's Working Council and has been associated with the organisation since 2004 He has over three decades of experience in projects and manufacturing management in FMCG, food, paper, and chemicals. His expertise includes the building, commission, expansion, and upgradation of new and green field units.  He was the Executive Director at Unilever […]
GOVERNING BOARD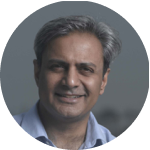 Ramesh Ramanathan
Co-founder, Jana Group
Ramesh Ramanathan is a social entrepreneur who works on urban issues in India. He has worked closely with the government in a pro-bono capacity and has also contributed as the National Technical Advisor for the government's Jawaharlal Nehru National Urban Renewal Mission, the country's flagship urban mission. As co-founder of the Jana Group, Ramesh heads […]
Swati Ramanathan
Co-founder, Jana Group
Swati Ramanathan is co-founder of the Jana Group, which consists of several social enterprises including Janaagraha and Jana Urban Space Foundation.  Swati leads Janaagraha's innovations in the use of social media and technology for civic participation. She has received international awards and recognition for IPaidABribe and IChangeMyCity, including Google's Global Impact Challenge Award (2013), ICIF […]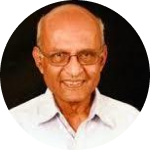 KK Nayar
Trustee, Janaagraha
KK Nayar heads Janaagraha's Working Council and has been associated with the organisation since 2004 He has over three decades of experience in projects and manufacturing management in FMCG, food, paper, and chemicals. His expertise includes the building, commission, expansion, and upgradation of new and green field units.  He was the Executive Director at Unilever […]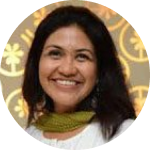 Vidya Shah
Governing Board Member
Vidya Shah is the CEO of EdelGive Foundation, the philanthropic arm of the Edelweiss Group. She also serves on the board of various prominent organisations, including Agastya International Foundation, Asian Venture Philanthropy Network, Common Purpose, Women on Wings, Toolbox India Foundation, and Masoom.  Set up in 2018 by Vidya, the Foundation aims to be a […]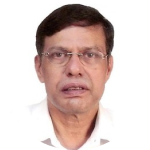 S K Das
Governing Board Member
Governing Board Member A retired IAS officer, S K Das served as Secretary to the Government of India. He was also a member (finance) of the Department of Space and is known today as a distinguished author.  Speaking about Janaagraha, he said, "I am fascinated by how Janaagraha has emerged as a dominant voice in […]
P K H Tharakan
Governing Board Member
PKH Tharakan is a former DG and IGP of Kerala. He has also served as the Chief of the Research and Analysis Wing (R&AW), India's external intelligence agency.  He has played a crucial role in supporting and handholding Janaagraha through some of our key programs, including Community Policing.  "I was drawn to Janaagraha because I […]
Ireena Vittal
Governing Board Member
Ireena Vittal was Partner at McKinsey & Co., where she worked for more than fifteen years. She co-authored McKinsey Global Institute's report, titled 'India's urban awakening: Building inclusive cities, sustaining economic growth.' She is among the country's foremost experts on retail, having received her MBA from the Indian Institute of Management, Calcutta.  Ireena is currently […]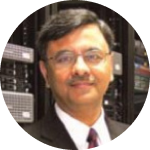 Dr Vivek Mansingh
Governing Board Member
Dr Vivek Mansingh is the Chairman of AxisCades. He also sits on the Boards of Innovatia, Dream a Dream and Janaagraha. He is highly sought-after for leadership training and coaching, given his stints at Cisco, Hewlett Packard, Fujistu, and Dell. He has a keen interest in entrepreneurship and leadership and has contributed valuable insights to […]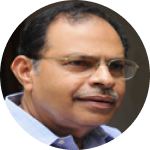 Babu Jacob
Governing Board Member
Babu Jacob is the Former Chief Secretary to the Government of Kerala. He also worked at the Agricultural Ministry and Personnel Ministry, Government of India. 
LEADERSHIP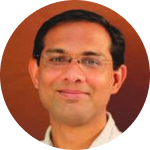 Srikanth Viswanathan
Chief Executive Officer
srikanth@janaagraha.org
As Chief Executive Officer, Srikanth steers the strategy of Janaagraha while also overseeing its operations.  He is an associate member of the Institute of Chartered Accountants of India and has previously worked with Standard Chartered Bank and KPMG.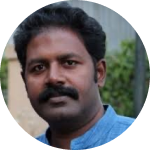 Srinivas Alavilli
Head, Civic Participation
srinivas.alavilli@janaagraha.org
Srinivas Alavilli heads the Civic Participation team in Janaagraha, which aims to increase citizen participation in local governance through various programs and projects.  He is also responsible for delivering IChangeMyCity, the pioneering civic-tech platform currently being used by lakhs of citizens and officials across thousands of cities in India. Srinivas conceptualized #CityPolitics, a unique forum […]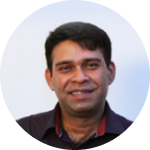 Shivkumar Menon
Head, Development
shiv.menon@janaagraha.org
Shivkumar Menon heads Fund Raising and Strategic Partnerships at Janaagraha. He has over eighteen years of experience in business development and has held diverse senior management positions in his last stint at Dun & Bradstreet, India.  Shivkumar is a commerce graduate from Mumbai University and a post-graduate in Business Management from XLRI.
Sapna Karim
Head, Civic Participation
sapna@janaagraha.org
Sapna has been a part of Janaagraha right from its inception in 2001. She has worked on various citizen campaigns as well as on technology-related interventions with the government. She also anchored the HR and volunteer management functions of the organisation for ten years.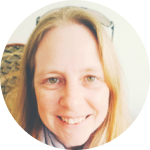 Katie Pyle
Head, Research & Insights
katie.pyle@janaagraha.org
Katie has more than eleven years of experience in project management, social research, and research implementation.  She previously worked with the National Foundation for Educational Research (NFER), based in the UK. She was also an operations manager with NFER's Trials unit.  Katie has a BSc. (Hons) in Psychology from the University of Warwick, and an […]